Return
1-Pre-Workout Pixie (40ct)
preworkout™ pixie
Avisae's PreWorkout Pixie is a tasty direct to mouth powder designed to boost energy levels, increase focus and reduce fatigue. And it comes in two delicious flavors: Mango and Piña Colada!
Made only with clean, plant-based ingredients, it delivers clean fuel in the form of our Pixie Power Blends including vitamin B12, plant sourced nitric oxide, amino acids and antioxidants.
Whether you just want an extra boost of energy and mental alertness or you're looking to take your fitness to the next level, Preworkout Pixie's unique formula provides quality whole food nutrition that drives results without any of the fillers that weigh you down.
---
Key Benefits
Explosive Energy*

Increased Focus*

Expands Muscle Function*

Delays Fatigue*

Enhances Cognitive Function*

Enhances Mood
*These statements have not been evaluated by the Food and Drug Administration. This product is not intended to diagnose, treat, cure or prevent any disease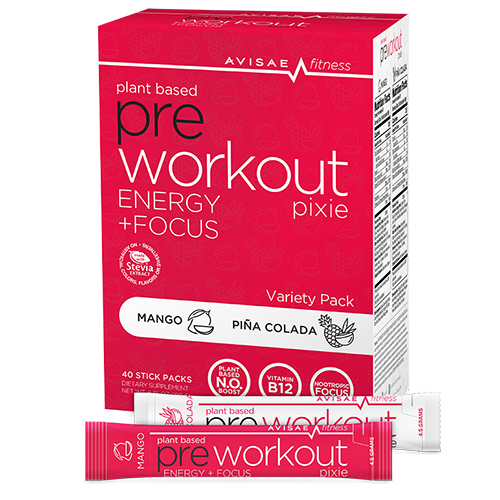 SUGGESTED USE:
Take one (1) Pre-Workout™ pixie daily to support help provide energy during your workout. A single serving is two Pre-Workout™ pixies per day. Take 10 minutes before working out.